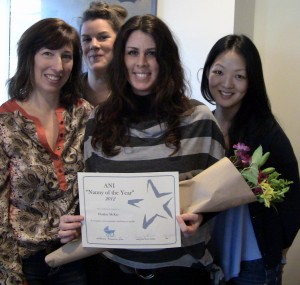 We are thrilled to announce our 2012 Nanny of the Year is Heather McKay!  We placed Heather in a Nanny/Family Assistant job last year, and she was our August Nanny of the Month in 2012.  Her family had this to say upon hearing of her win:
"Our family is thrilled to hear that Heather has been selected as Nanny/Family Assistant of the Year.  She is certainly deserving of this honor.  Heather provides our busy household with incredible support and organization, and always with an energetic smile.  She anticipates our needs and does more than we ask.  As a professional single mom, I don't what I'd do without her! Thanks for honoring Heather."
-Karen
Heather recently came into our office to receive her award, some flowers, and a special treat! Congrats!