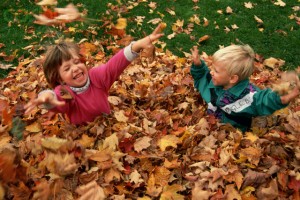 The arrival of the Pumpkin-Spice Latte means only one thing in the Annie's Nannies office, it's Fall again in Seattle. Before the weather starts freezing little (and big) toes, we like to take the chance to spend some time outdoors – enjoying the crunch of leaves on the ground and the sight of hundreds of orange pumpkins in a field.
1. Get Lost In A Corn Maze
One of the most entertaining fall family activities is getting lost in a corn maze! Our friends at Red Tricycle have put together this handy list of 10 corn mazes in the Seattle area. A great, inexpensive day out with the kids that guarantees a good night sleep! Your family doesn't need much to have fun here – just a pair of gumboots and a sense of direction.
Our Top Pick: Carleton Farm! – Check out all the extra fun activities!

2. Collect Leaves
Playing in the leaves is a great learning opportunity and a fun physical activity. Having the kids help raking up leaves does make the job take twice as long, but it makes it twice as fun! Get the whole family involved in raking the leaves, then let the kids run and jump in the piles – they'll be as excited as this guy!  After they're worn out, work together to bag the leaves. You'll break a sweat playing, running and doing yard work.
You can also take a walk in your neighborhood, or visit a local park and make it a learning opportunity by examining the different types of leaves you find. Look up pictures of leaves and trees online, comparing the colors, shapes and sizes. Encourage kids to pick their favorite leaves and come home to try out these fun fall crafts!
3. Hayrides and Pumpkin Picking
Pumpkin picking season is upon us which means it's time to start picking out which of Seattle's wonderful pumpkin patches you're going to hit with the family this year! An affordable way to get outside and relieve stress together – picking the "perfect" pumpkin is fun for the whole family. To save an extra few dollars – bring hot chocolate or cider along and pack your own picnic lunch and blanket. Enjoy a hayride and play games together, such as tag, capture the flag or frisbee.
4. Go Apple Picking
Set aside time to visit one of Washington's wonderful orchards for a day of U-Pick!  If your kids have never been apple picking before, they'll love their first trip. Continue the fun by baking one of these kid-approved treats with your fresh produce when you get home.
5. Go For a Hike
A hike is an excellent fall family activity for your whole family. You can control the difficulty of the hike by setting the pace and choosing a terrain that makes sense for your family. The hike should be a slight challenge, but still allow you to talk and bond as you walk. Check out Washington Trails for great hikes to go on with young kids.