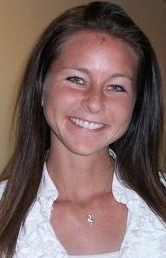 We are so excited to announce our first summer Nanny of the Month (June) for 2014….Nicole Hill!
Nicole has been active in our On-Call pool since the beginning of 2012 and has also been placed in numerous part-time positions. One family Nicole has worked consistently with says, "Nicole is absolutely wonderful. She has such a positive personality and attitude about everything. The kids absolutely enjoy her and can't wait until she returns. We feel very lucky to have Nicole in our lives."
One On-Call client who recently had Nicole offered the following story as an example of Nicole's can-do spirit: "Nicole was great!! That evening, she texted me that the boys were asleep, and that the only mishap was that a branch, from a tree in our front yard, suddenly crashed to the ground while she was reading books to the boys. She had the presence of mind to talk to our gardener, who mowed the lawn earlier that evening, and was still working in the park across the street, to come back and clean up the mess that was strewn all over the front entry way. I admired her for how she handled the situation and was grateful I didn't have to step over a bunch of tree limbs in my dress when we got home. I think a lot of people would have left things for the parents to handle later, but she chose to get the job done, and we appreciated that a lot!!
We asked Nicole what her favorite way to spend a laid back summer day with kiddos was and she responded, "I am queen of the picnic lunch or dinner. Come rain or shine (mostly shine in the summer months) I love packing up lunch/dinner, the kids and taking it outside. I let the kids decide what they want to fit in the picnic basket (one rule-it all must fit in the basket!) and off we go. Usually to the front yard :)."
We would love to have you as our nanny to take us on picnics, Nicole!! We can't thank or appreciate you enough.