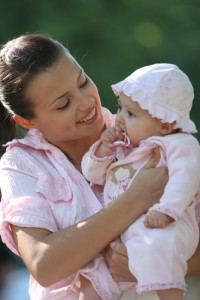 1.    Be on time, or a little bit early.  Nothing is more frustrating than waiting for your nanny to arrive and knowing that you yourself will be late to your own appointment, meeting, dinner date, etc.
2.    Show that you are interested in the children from the beginning.  Ask questions about the child!  Get down on the floor and play with them!  Families love this.  One parent recently emailed us, "My son took to [her] immediately, and I appreciated how her focus was on my son from the moment she arrived."
3.    If there are any specific directions left by the family, follow them!  If you don't understand something, ask for clarification.
4.    Leave the house in the same condition it was in before you got there.  If you use dishes, wash them or put them in the dishwasher.  If the kids have made a mess in the playroom, enlist their help in straightening it back up.  Or, even better, leave the house in better condition than you found it!  We get so many emails from families who express surprise and just sheer delight that their On-Call Nanny took the effort to go above and beyond their expectations.
5.    Talk to the family about how the day/evening went when they come home.  You don't necessarily have to keep a journal, but make sure to communicate any events that occurred that were out of the ordinary, or even just a funny story.  This is the last impression of you the family is left with, after all.

Some of these things might sound basic or obvious to you, but families notice!  It could be the difference between "We'd like a sitter for next Saturday" or "We would LOVE to have [Jane] back!  Could you please make sure to check with her first?"