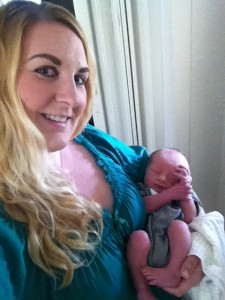 This month, the accolade goes to Amanda McNellis!
Amanda has been with Annie's Nannies since 2012 and has fast become one of our families' favourites! She is known for her sweet nature and her extensive knowledge of infant and newborn care.  Her full-time family ADORED her and were sad to see her go. A recent on call family said:
"Oh gosh, it could not have been easier, or gone any better! What a lifesaver! I was so relieved to get that day covered as (of course) it was a rare occasion where I could not call in sick, and with such short notice, wow! Amanda was warm, kind, prompt and very thoughtful. She sent us photos throughout the day and updated us on how Ben was doing. Both my husband and myself felt very comfortable with her and would certainly recommend her to any other family in need!"
We asked Amanda to tell us something funny that a child said to her recently, she said: "I remember a 3 year old little boy saying to me recently "you talk too much" when we were playing with his toys, it totally cracked me up! Something cute that a 5 year old little girl said to me was "I like your shiny headband, you look like a princess!" too cute!"
Thank-you Amanda for being a wonderful Nanny to the Annie's Nannies community! We are so glad to have you!