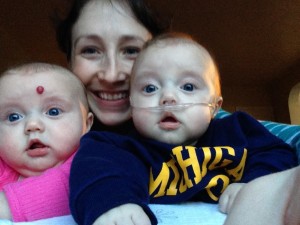 We first met Shoshana in September last year, though she had been working as a nanny in Seattle for over 10 years. Boy, were we excited when she walked through our door!
Growing up as the second eldest of ten children, working with kids has been part and parcel of Shoshana's whole life. Part of what makes her so special is the dedication she shows to her charges and the way she treats them as if they were part of her own family.
This has not gone unnoticed by the family we placed Shoshana with in November 2014; they recently sent us an email out of the blue telling us how much they love her!
"When we found out that our twins were due to be delivered very early and would have some complex medical needs (home oxygen and feeding issues) we were very anxious about how we were going to find someone to care for them when I returned to work.  Shoshana and your agency have been an absolute blessing. 
Shoshana is one of the most remarkable people I have ever met.  Not only has she expertly managed our girls' medical needs, which in my mind is above and beyond the standard nanny job description, she has been incredibly flexible and has stepped in on several scheduling emergencies.  On one occasion she stepped in and was at our house at 5:45am on only 10 hours' notice.  This was on a day that she is not usually scheduled to work but I was called in for a shift in the ICU and my husband was out of town. 
When I returned from work 14 hours later, the girls were sleeping soundly, the house was immaculate, all of the cooking and laundry was completed and these were not even tasks that were in the job description that we had agreed upon!  She replied simply that she wanted me to be able to have a restful night before going to work the next day.  This is only one small example of how extraordinarily kind and hardworking Shoshana is.  Every week she finds some new way to make our lives easier in addition to caring for and loving our little girls.  I always feel a sense of pride when I am meeting with my friends and discussing work life balance/child care because we truly have found a gem."
With this commendation, we couldn't not make Shoshana our February Nanny of the Month! Congratulations!